---
[General | Members | C900 | 9000 | NG900 & OG93 | 92X | 93 | 95 | NG95 | 97X | 99 | Sonett | Vintage Models | Performance | Detail | Clubs & SOC | Other Cars | Books Movies & Music | Chat | FAQs | Gifts | Photos | Classifieds | Polls | What's New | Raffle | Photo of the Month | Sponsors]
| | |
| --- | --- |
| Performance Bulletin Board | |
---
---
Got some time with my drag car on the dyno. Trying to throw a cage it in by friday night so we can go test locally before dragging it to KCIR for the import faceoff race sunday.

Lets just say it made more than expected at this point in the hardware roadmap. Stock T5 head and still a B205 bottom end. More details on http://trolltuner.com

One of the early runs http://www.youtube.com/watch?v=4U6WMzxRAf8 This is with 1800cc/cyl running at about 80% duty.

Ed, IF you thought the Red vig was fun.. ;) It almost even hooks on the road with 205 p6 Pirellis. The chassis is dialed in.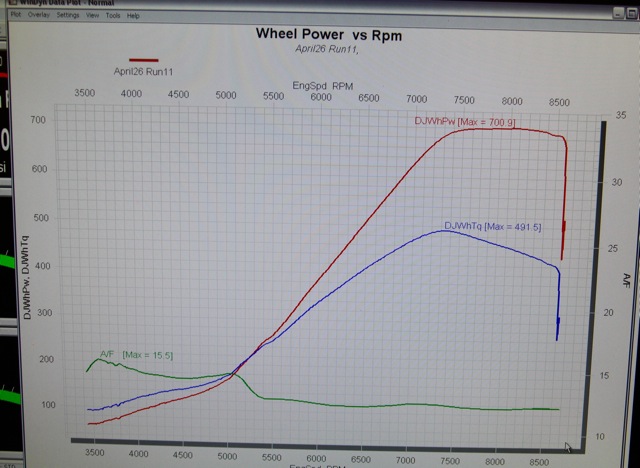 ---
Posts in this Thread:
Members can receive an alert when someone posts in this thread.
---
Post a Followup
---
---
---
This is a moderated bulletin board - Posting is a privilege, not a right. Unsolicited commercial postings are not allowed (no Spam). Please, no For Sale or Wanted postings, SERIOUSLY. Classifieds are to be listed in The Saab Network Classifieds pages. This is a problem solving forum for over 250,000 Saab owners, so expect to see problems discussed here even though our cars are generally very reliable. This is not an anything goes type of forum. Saabnet.com has been a moderated forum since 1988. For usage guidelines, see the Saabnet.com Mission and Purpose Page. Please remember that you are not anonymous. Site Conact | Site Donations
Your address is: 54.196.47.196 - Using CCBot/2.0 - Logged.